It's the end of the month, and that means I need to write another wrap-up post. The month went by fast. I've been reading, guest blogging, and watching the last season of Game of Thrones.
I've been reading books and getting more into webcomics. The major novel I read this month was Five Feet Apart by Rachael Lippincott and Shadow and Bone by Leigh Bardugo, and I reviewed Lady Midnight by Cassandra Clare, Freaking Romance by Snailords, and I Believe in a Thing Called Love by Maurene Goo. Of the webcomics, I'm currently tracking Lore Olympus by Rachel Smythe, Let's Play by Mongié, and Ghost Wife by Saejung.
Last week, I visited Perspective of a Writer and wrote about graphic novels and their visual storytelling. Please read that post and all of the posts Dani writes.
Before I move on to talking about Game of Thrones, I'm dropping a note about the posting schedule. I still don't think I can keep up with blogging more than once a week for now, so I'm going to keep posting on Mondays for a while longer. I'm also trying to get more posts up that aren't just book reviews. You can also see that I'm posting more on Bookstagram (@catonthebookshelf), so feel free to visit.
Game of Thrones Spoilers Ahead
Now I want to talk about the most recent episode of Game of Thrones. I'm the 10,000th person to talk about this, but it was an epic episode and I'm a little low on ideas for how to continue this wrap-up post. Forgive me for what comes being a mess.
First, to those of you who like zombie movies but proudly announce that you don't watch Game of Thrones, you missed out on an awesome episode that would be right up your alley.
Second, so many people died and survived that I didn't expect. What else is new with GoT? I'm thrilled about who I know died, and I'm sad about others. I still can't get over my favorite, badass 10-year-old Lady of her House doing what she did on her dying breath. Lyanna Mormont is a heroine. May she rest in peace.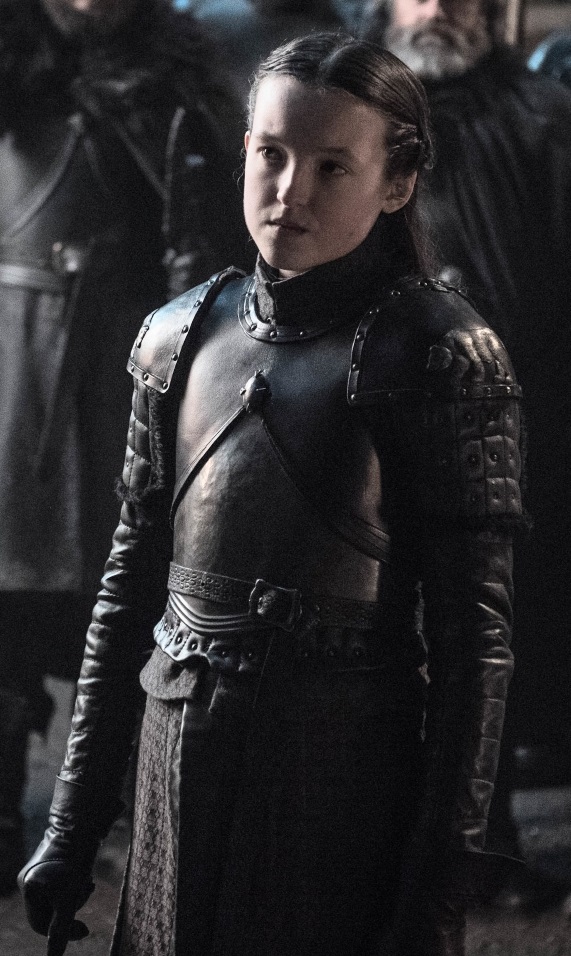 Arya was amazing this episode. She knew when to make life-saving decisions. I also loved her moment with Melisandre because of what it hearkened back to in Season 1. I loved how she kept surviving and finally offed the Night King. For him potentially being an aspect of the Many-Faced God, she
I'm still not clear who is alive. I guess that's a surprise for next week, but I would still like a head count. And don't let it be Heather McCallister doing the counting. (She lost Kevin in the '90s.)
Third, we also came so close to seeing Jon get set on fire, and it didn't happen. But it was terrifying as it became clearer who could survive being set on fire.
Questions I have post-Episode 3:
Was Melisandre as old as the Night King? We knew she was ancient and that she prophesied her death at the start of the episode. She claimed her god had a purpose for bringing everyone back to life. Was she made to be the polar opposite of the Night King?
If the Night King couldn't be burned, does that mean he is some ancient ancestor of the Targaryens, per the TV series universe?
Will Bran still be the Three-Eyed Raven, or will he become his old self?
Does Daenerys have one or two living dragons now?
Did Ghost survive? Was there potentially a White Walker direwolf?
Can the White Walkers come back next winter?
Things I would like to happen:
I want to see how everyone goes about taking care of the dead and recovering.
I want to see Sansa and Tyrion remarry, especially now that Theon is dead. I think they had a good heart-to-heart in the Crypt, so they should get back together.
Every single living Northerner should bend the knee to Daenerys, and Daenerys needs to get over her fury about Jon being ahead of her in birthright for the Iron Throne.
If I had survived being in the Crypt with everyone else, I would never bury anyone again. Cremation all the way.
I want to have a satisfying death for Cersei, but I'm not sure how they plan on topping Episode 3.
That's all for me. I will see you next week. How was your April? If you watch Game of Thrones, what do you think of this season?